Bartending is a definite skill and learning how to obtain those skills is easier than you might think. You haven't got to go to school for several years and pass numerous practical and written tests.
To become a bit nifty behind your own home bar it is easy to learn the skills of a bartender, and you can do it all online too.
There is more than one school offering bartender courses online and most you can do at your own pace without the pressure of timescales and deadlines.
This is not a call for changing career, these courses are offered for professional purposes as well as for us bar enthusiasts, so you can enjoy the experience, learn at your own pace and impress your guests next time you have a soiree.
I have researched these online bartender resources as a reference only, they are in no particular order of preference. If you like the sound of learning how to be a pro at your home bar, then one of these courses may suit you.
What Is Bartending
The art of bartending has been around for a little while now, we can go back as far as the Roman era to find the first bartenders serving the people their favorite tipples.
They have been known by many names over the years from innkeepers, barkeeper, barman, barmaid, bar steward to mixologist as well as many others.
Bartending as a career is a fun job that pays an average salary at its basic form, but your money can grow with tips from customers. At the top end a bartender becomes a celebrity type figure through the work they have achieved and can make 6 figures.
It has to be said though that bartending is a skill, you may have some natural ability to help, but it has to be learned. There is a lot to learn too, from all the many types of beers, wines and spirits, to the different ways to mix them and serve them.
To know every drink, mixed in every type of way and served in every possible way, would take an encyclopedia as a brain.
How do you then learn and retain all this information?
We are not looking at becoming a professional bartender here, although that could be an option if you so chose. We are looking at becoming a pro in our own home bars, so the courses and their companies I have included here will give you the knowledge to be just that, or go onto be a real bartender.
You will learn tips and tricks, and outlined steps that will set a base for many types of drinks.
Dive in and enjoy.
A Mixology Masterclass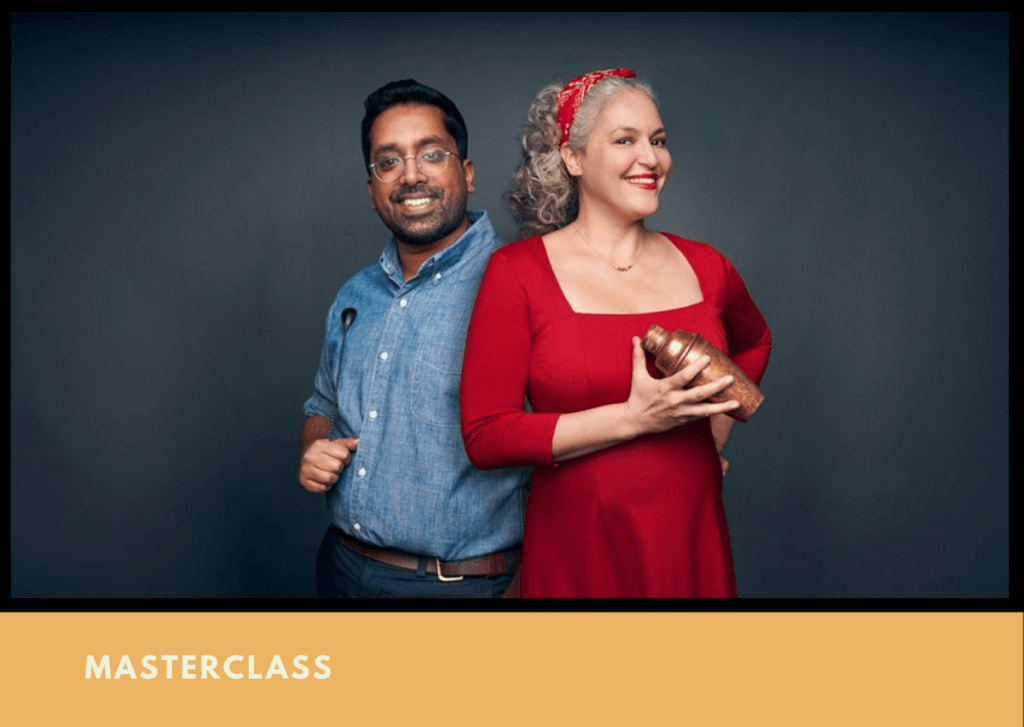 Masterclass is a great resource for learning many skills in many categories from business, writing, food, home and lifestyle and even music. It has wealth of classes run by some world-class experts in their own fields. You can learn wine appreciation from James Suckling, or Gordon Ramsey will teach you how to cook.
The class we are looking at however comes from Lynnette Marrero and Ryan Chetiyawardana who teach mixology. If cocktails are your bag then this could be the class for you.
I will not go into Lynnette or Ryans credentials because they have done way too much in the industry for me to start listing here, but lets just say they know their stuff when it comes to cocktails.
This course has 17 lessons including.
Get Behind The Bar
In this lesson they discuss the essentials of a home bar and what spirits to work with, as well as the most versatile ones.
Dinner Party Classics
While Lynnette messes with the classic negroni, Ryan shows how to infuse spirits with fruit and herbs using a microwave.
Celebratory Libations
Learn how to batch a Champagne cocktail ahead of time to impress a crowd, and a recipe for a punch called Llama Del Rey.
Pairing Cocktails With Food
You didn't read that wrong, if you want a cocktail to go with your meat dish, then Lynnettes Barracuda could be the drink to pull it off. While Ryan's Portland Calling is a refreshing pair to a dessert.
All in all this is a course that looks informative whilst at the same time looks great fun. Lynnette and Ryan work well together and teach in a style that feels comfortable and light.
The course is delivered by video format and you can even take a look at some sample videos of the course before you buy. You also get PDF workbooks for each class, so you can reference key points quickly without replaying a video.
Masterclass is a monthly subscription that costs £14.17 per month, which is billed annually. The bonus is that you can access all the other courses in all categories for that monthly fee, which seems a good deal.
Overall Masterclass looks a good learning platform for a number of categories, but at present is minimal on courses that cover home bars.
Barsmarts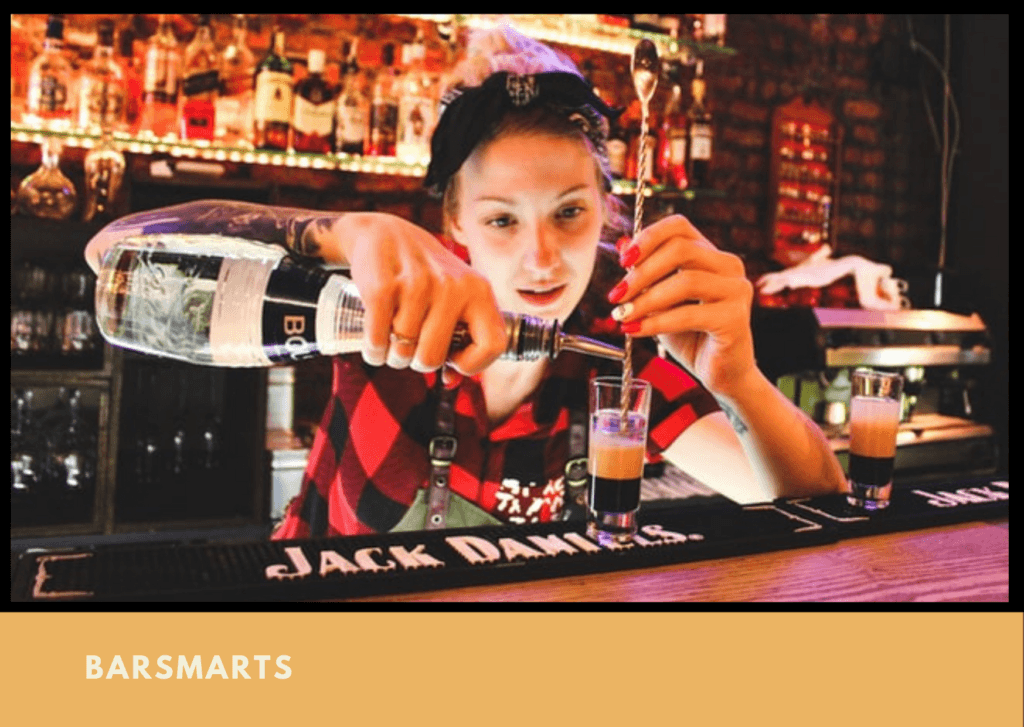 If you want to get serious then Barsmarts is acclaimed to be the industries leading education program for bartending. It was created for Pernod Ricard USA and is sponsored by the same, and is an online course for bartender education and certification.
There are two courses 'Barstarts' and 'Barsmarts', one being aimed at beginners and the other being more comprehensive and in-depth bartender training.
Both courses are made up of reading as well as video material which are set out on 4 modules with a test at the end of each module. The tests are multiple choice and the student has two opportunities to pass the test.
At the end of the course their is what is called a drinksbuilder test and it asks the student to build 4 cocktails using the right ingredients, glasses and garnish. Again their are two opportunities to pass the final test. If you pass, then you will receive a certificate.
Although this training is aimed at those who are choosing to have a career in bartending, anyone can register and take these courses and it will cost you $29.00, which is pretty reasonable. One thing to bear in mind is that unlike the Masterclass mixology course which lets you study at your leisure, you have 60 days to complete these courses.
The courses from Barsmarts seem more formal than Masterclass, probably because they are, but that does not mean they are not worth looking at as a home bar enthusiast. The only downside I can see is that you are under pressure to complete them in a 60-day time period.
Bar School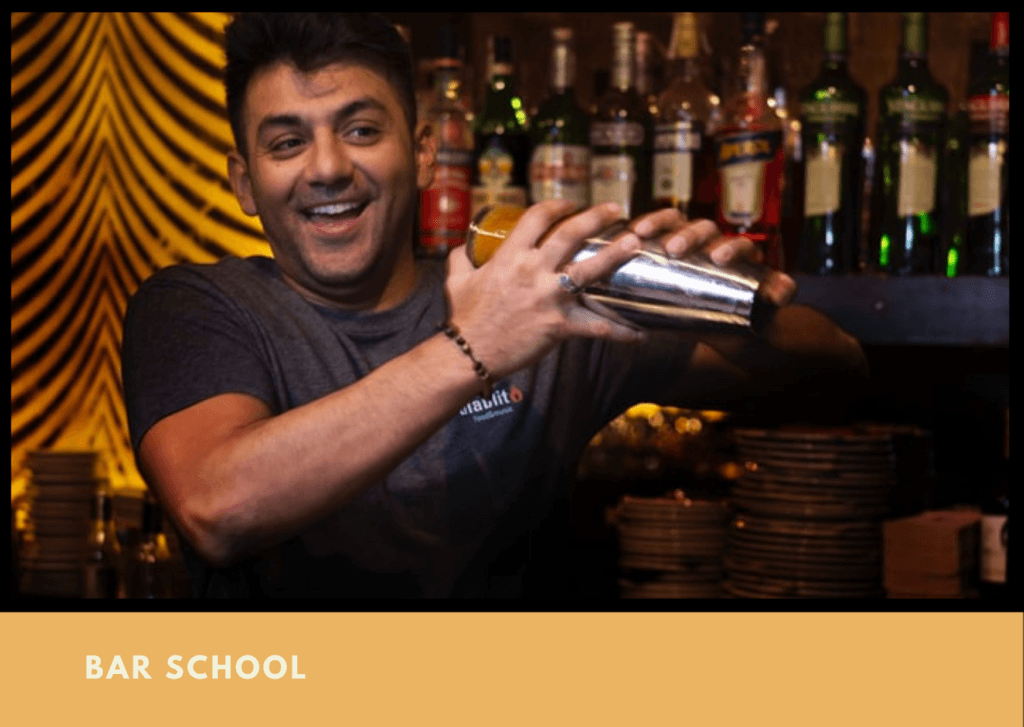 The European Bartender School claims to be the global leader in bartender training and they primarily are physical purpose built schools that you attend to train as a bartender. They have 25 destinations worldwide, including London, Paris, Miami, New York, Sydney, Berlin, Amsterdam and Milan.
They have a 'Basic Bartending Course' which is 1 week and is held in 9 destinations, 'International Bartender' which is 4 weeks and is held at 21 destinations and their are a few other advanced courses.
I know these are a little over the top for a home bar bartender, but their are those among us they maybe thinking it would make a nice vacation ( or learncation ) to take a trip to one of the 25 destinations and learn bartending skills at the same time.
For those of you that do not want to travel and attend a physical school, fear not because the European Bartender School have developed several online courses. These course will have you impressing your family and friends with your new-found bartender skills.
The courses range from beginner to advanced and you not only get lifetime access, but you will also get a certificate at the end.
There are four online courses to choose from, or you could work your way through all of them.
The Essentials Of Bartending
Brought to you by Gavin Wrigley who has 20 years bartending experience, and 6 years teaching under his belt. He holds nothing back and takes you behind the scenes on how to develop good habits and fine bartending skills.
In this course you will get 3.5 hours of video training, consisting of 34 lessons and 27 recipes. You will learn plenty to keep you busy at your home bar, but enough to get you started in a bartending career if you chose. At the end you will get a certificate and you have lifetime access to this course.
The course is also available with Spanish, French, German and Italian subtitles, as are all their courses.
The Essentials Of Bartending course will cost you £29.99, which is around $40.00 and 35 Euros.
Advanced Online Bartending
Another course delivered by Gavin Wrigley who takes you on a more advanced journey opening doors to new techniques and skills. He teaches you to use raw material to get new flavors and encourages you to create your own recipes using the knowledge you gain from this advanced course.
Now you know the essentials of bartending, you may want to progress to a more advanced level with this course. You will get 3 hours of video, 18 advanced bartending lessons, and 19 expert cocktail recipes. Again their is downloadable course notes and at the end a certificate waiting for those that pass the test.
The Advanced Bartending course costs £29.99 at time of this article, which is a little over $40.00 and 35 Euros.
Tiki Cocktail Course
Fancy mixing up some Tiki culture in a glass, then the Tiki Cocktail course maybe of interest, especially if you have an outside Tiki style bar.
This course run by Andre Sousa will give you 3 hours of video with 20 lessons which also include a little Tiki history. You will get 16 Tiki cocktail recipes along with 8 homemade Syrups. There are the course study notes and a certificate at the end for successful graduates.
The Tiki Cocktail course costs a cool £19.99, which converts to $28.00 and 23 Euros.
Craft Flair Course
Fancy yourself as a bit of a Tom Cruise from the movie Cocktail, then a Craft Flair course is where you can learn those fancy shaking and juggling moves and impress your friends and family.
Tom Dyer ( world champion Flairtender) will take you through your paces with an hour of video, 16 lessons covering different flair moves, and you will learn 4 different flair routines, which is just too cool for words.
The Craft Flair course is just £19.99, converting to around $28.00 and 23 Euros.
Access All Areas
There is a wealth of knowledge in every course at the European Bartender School, which can teach to a level that will get you a huge start in a bartending career and if you go down that route, then good for you.
The courses I have highlighted here are not just for those seeking to join the profession, but for the home bar enthusiast to gain more knowledge and skills that will enhance their own experiences at home, or to become a star at an event or party.
The thing I like about the online courses from EBS is not just the quality, but the price. These courses are so reasonable with a lifetime access as well as a downloadable workbooks, incredible.
Wait though because it gets even better. I know you can't believe it, but it does.
You might want to learn the basics and buy the Essentials Of Bartending course, that maybe it for you. But what if you loved it so much and you just worked you way through all of these courses.
That would set you back a very reasonable £99.96 or $140.00 or 116.22 Euros.
EBS do a package deal, bundle all four courses together and you will only pay a cool £79.99, which is $112.00 and 93 Euros, you can't say fairer than that.
Go find out more about each course and watch the introduction videos to all Online Bartender Courses from EBS.
The prices in sterling are what the courses cost at the time of writing this post, the conversions are also at the time of writing, be aware conversion rates will fluctuate daily.
Udemy Online Classes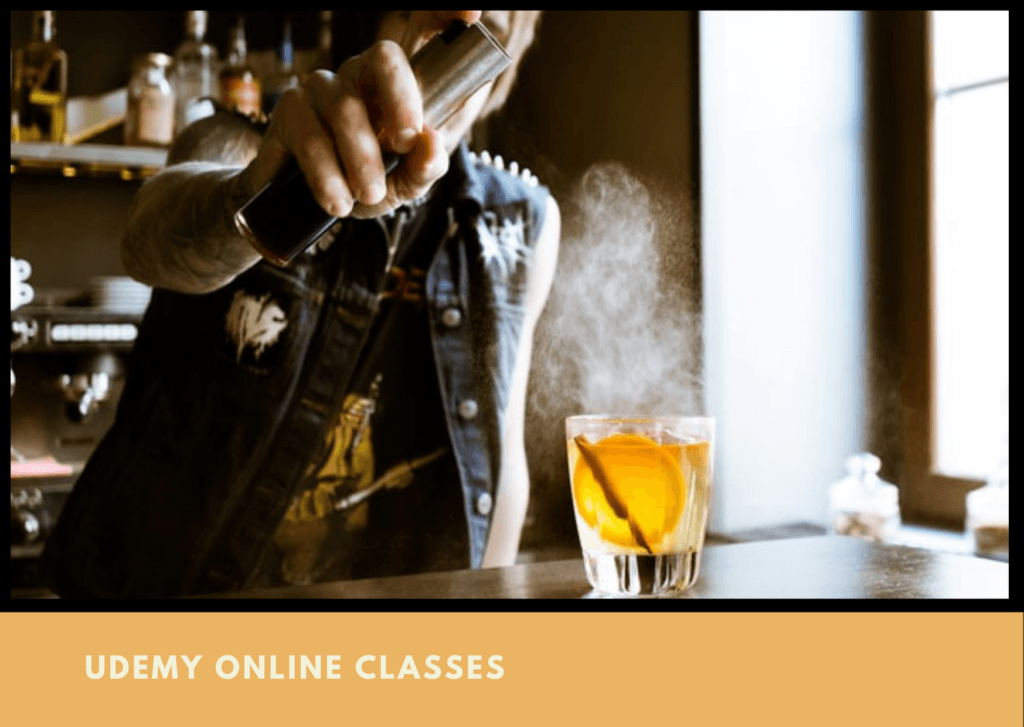 You will be amazed at the amount of choice from this online teaching hub, it has lessons and courses for many topics and boasts over 130,000 video courses. It maybe that you find a course that you like in another topic other than bartending, but it is this subject we are looking at, so what do they have to offer.
They have a large choice in the bartending category, their are 3 pages with around 40 courses available. I am not going to list all these courses because you can check them out yourself, but I will give you a bite sized taster of what to expect.
Cocktails 101
Brought to you by the world-famous Tipsy Bartender, you will learn the basics of mixology as well as some hacks and tips the pro's use to make cocktails. He breaks things down into 5 steps that you can use to make any drink.
It's a 2 hour video with downloadable materials, a certificate at the end and full time access.
A little more expensive at £59.99 – $84.00 – 69.00 Euros
Wine Service
As you have probably guessed this course is about wine. How to taste wine like a professional, detect flaws in wine, open and serve wine like a pro and the right glassware for the right wines.
You'll get 1.5 hours video plus 1 article, a certificate and have full time access.
A mere £29.99 – $42.00 – 35 Euros
Home Bartending
Alex Glod takes you through a home bar journey, from setting up your home bar to make it functional to mixing classic long drinks, tropical cocktails, shots, tasty smoothies and alcohol free drinks. It's a masterclass in home bartending, and includes 3.5 hours of video, 7 resources, certificate on completion and full time access.
Weighing in at £59.99 – $84.00 – 69.00 Euros
Brandy
The essentials of brandy in cocktails and bartending will give you an in-depth knowledge of the different types of brandy and how to better select, serve and enjoy it. The course will show you 25 brandy cocktails for you to mix and master, and you will get the history of brandy too.
The video material is 1.5 hours, with 4 articles, 1 downloadable resource, certification on completion and full time access.
You will get a lot for £29.99 – $42.00 – 35 Euros
When I was researching these course, their were a lot on offer, like the Brandy course was on offer for £15.99, so look out for price slashes from time to time.
These are just 4 of the available courses at Udemy, but their is a whole lot more to choose.
Take a look for yourself and browse the many learning options at Udemy.
ABC Bartending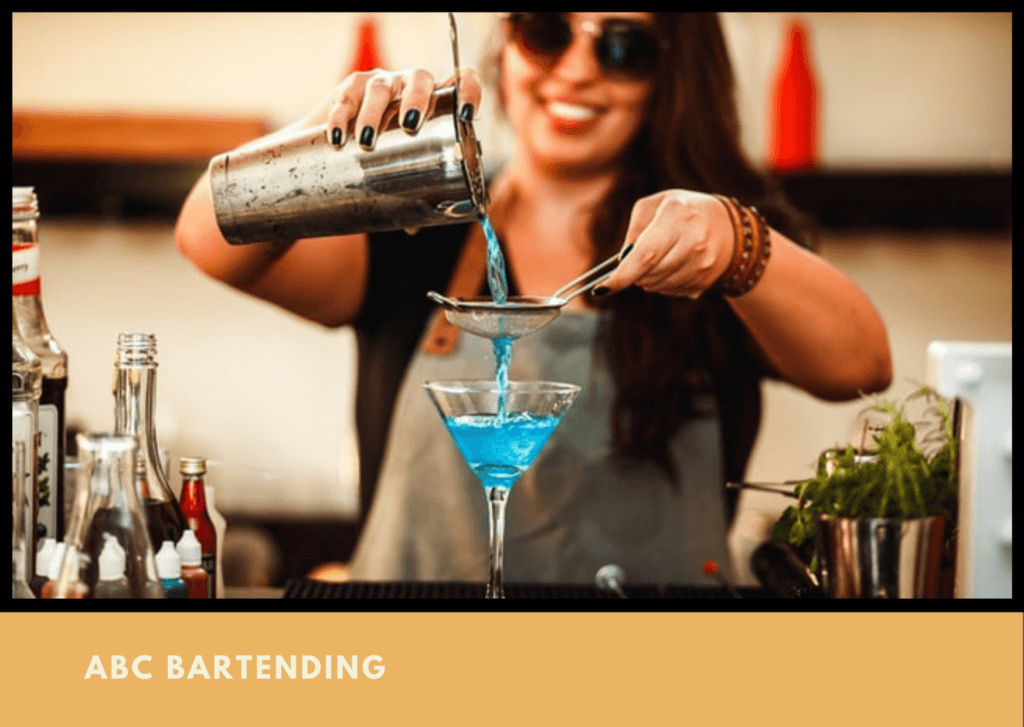 To finish off, we have ABC Bartending School Online, a simple direct approach course that can be completed in as little as 2 days, or at your own leisure.
You have not got a choice of several courses, this is just one course, that gets you a certificate on completion. This course will take you through a comprehensive database of cocktails, shots, beers and wines, so it's an all round bartending experience. You will also learn about alcohol laws.
The course comes in 2 parts and is $59.99 – 49.00 Euros – £42.00
Best Online Bartending Course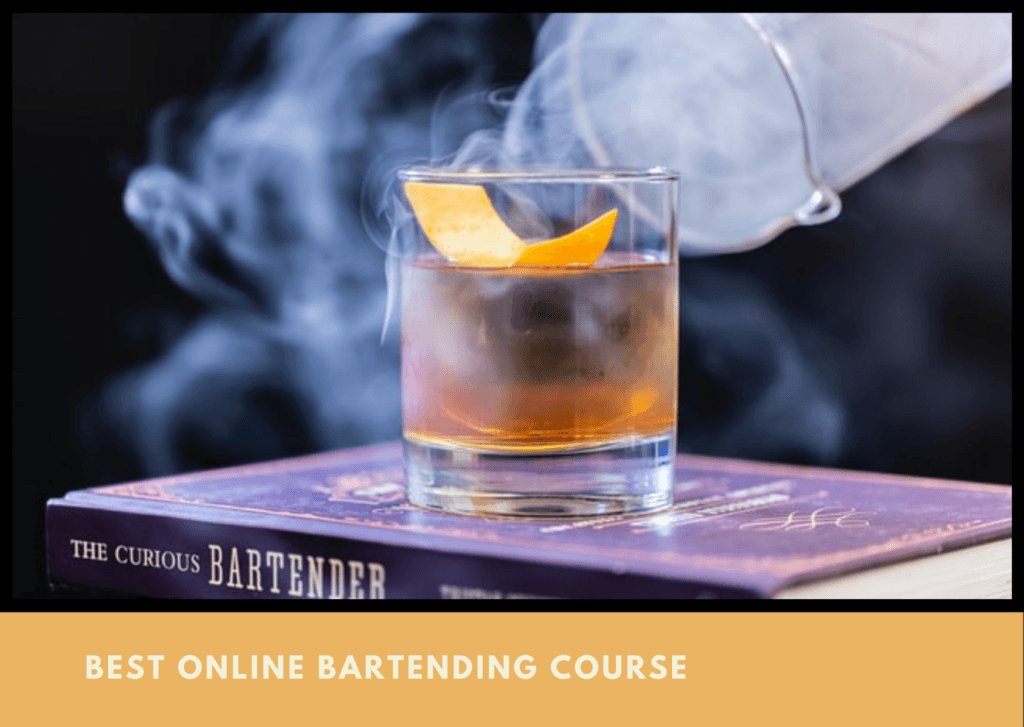 The five online training resources I have covered all offer a variety of material around the bartending category, from the basics, to the more advanced, not forgetting your Tom Cruise Flair Antics.
Which one is best is impossible to answer, without taking every course from every company. This comes down to us as individuals and what kind of training we want.
If it is simple and to the point, then maybe ABC Bartending School is the one, or if you want choice and variety, then you would probably plump for Udemy Online Courses. For me it has to be the European Bartender School, I just like how their training is set up and how it comes across, but that is just me, and I don't want to influence your choice.
EBS would be the best training if you prefer to physically attend a course, and/or explore another country whilst doing your training. It is worth watching their videos explaining their schools and how the training is delivered, it looks a lot of fun.
[All prices and conversions to all the five online training schools were correct at the time of writing]
Whichever company you choose, or not is up to you, just have fun and enjoy the experience. In fact share your experiences below with these companies or any others that you might have come across or used to learn more about bartending courses online.