An ice cold drink is always a welcome drink, especially on a hot day. The trouble with ice is it will water down your drink as it melts. While many people do not mind this, some hate their favorite drink to be watered down. A freezer glass could be just the solution. But is a freezer glass the coolest thing?
A glass made specifically for freezing. Pop it in the freezer, let it freeze and then just add you favorite drink. Your drink will not only be ice cold, but will stay that way for up to a couple of hours. This is the perfect solution if you like your drink ice cold, but don't wat to water it down with ice.
Is A Freezer Glass The Coolest Thing?
It certainly is the coolest thing if you like an ice could beverage. A freezer glass is practical and super easy to use. It stops the need for buying and storing ice, or making ice with molds. No need for an ice machine either, cutting down on water and electricity. A freezer glass is a no brainer then.
Well it is for some people and some drinks, but its not for everyone.
What Is A Freezer Glass?
A freezer glass or freezer mug as they are also called, are glasses that are designed to be frozen in the freezer. They are not actual glass, but made from BPA free plastic which is a grade of food safe plastic. Mayo Clinic has an article explaining more about BPA.
Because these glasses are made from plastic it makes them ideal for outdoor use. Whether it be a barbecue in the backyard or a picnic at the beach. A freezer glass will keep your drinks cool and be more robust than glass.
A double wall construction is filled with a freezing gel. This then freezes which keeps the glass and the contents cold for up to a couple of hours. The length of time will depend on how cold the drink is to begin with and the ambient temperature.
Not all drinks need to be ice cold, but rather just chilled. This can also be accomplished with a freezer glass. Instead of putting it in the freezer, just pop it in the refrigerator to chill. This will keep your drink cool without being too cold.
When Is A Freezer Glass Not So Cool?
As I have already said, not all drinks are best served ice cold. A soda, or even a frozen cocktail may suit a freezer glass. Giving an ice cold experience on a hot day without ice.
Although some bars pour a beer into a frosty glass, and of course some people love this. It is not the best way to enjoy a beer. A beer this cold can numb the taste buds, which means we won't be able to get the full flavor of the beer.
This is particularly important with the different types of beers available today. Breweries go to great lengths to add certain flavor notes for the enjoyment of the beer drinker. Serving these beers to cold will mask those flavors, as well as the aromas too. The same goes for red wine, or some liquors, it is not always best to serve some drinks too cold.
Obviously it is down to the individual how they want to serve their drinks. If you love your beer ice cold, then a freezer glass will be ideal. Even if you prefer your beer just chilled, then a freezer glass will work well too, just chill it rather than freeze it. Control the temperature by how long you chill or freeze the glass for.
These glasses can be pretty versatile and once you know how to get them to your perfect temperature, will be hard to beat. Also they come in many designs, so from a milkshake to a margarita, or a shot to a long beer there is a glass to suit.
**As an Amazon Associate, I earn from qualifying purchases with no extra cost to you.
Frosted Beer Mugs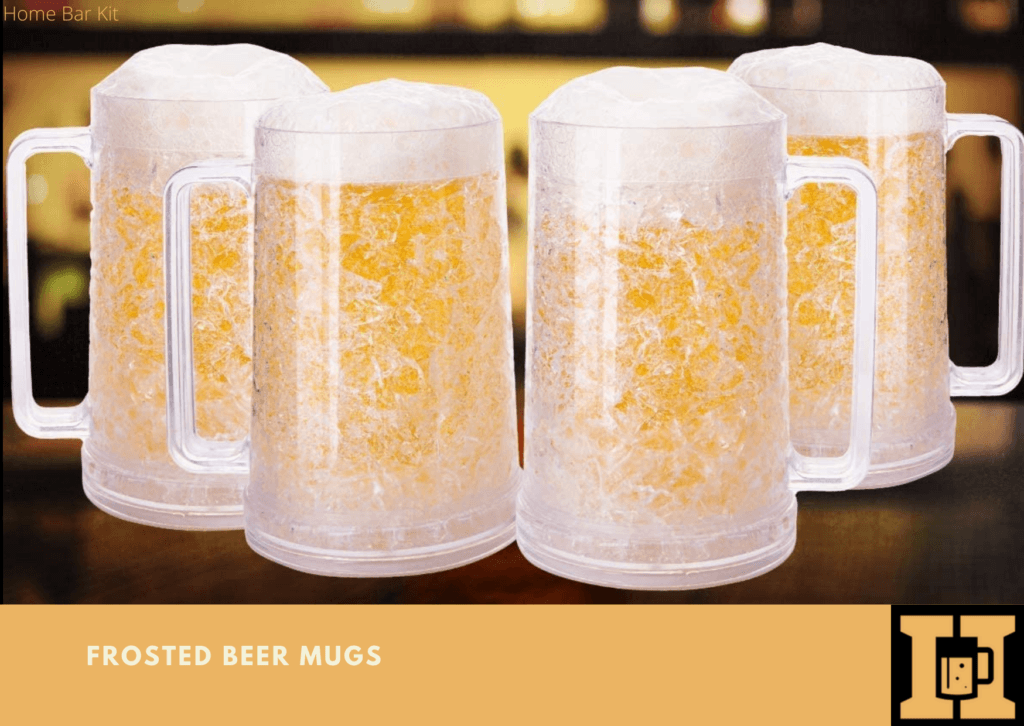 Check Latest Price
Your standard beer mug with handle is the go to beer glass for many, an all time classic design. With a frosting style on the glass walls, these look the part before you start. Double walled with gel crystals in the void which freeze to keep your beer cold.
Not just for beer, these glasses can be used for any of your family favorites, while keeping them cold. The frosted mug stands 6 inches (15.2cm) and has a diameter of 3.9 inches (9.9cm). The handle does add another 0.8 inches (2cm). A generous capacity of 16oz (473ml) makes these ideal for a standard beer or other long drink.
To use, just pop them in the freezer and give them around 2 hours. It is best to place them upside down in the freezer for best results. A note from the manufacturer states not to freeze them beyond 4 hours. Also not to freeze them below -10°C (14°F). They are for hand wash only, not dishwasher and not for hot drinks.
A classic design beer mug that has a cool frosted look.
Upside Down Beer Glass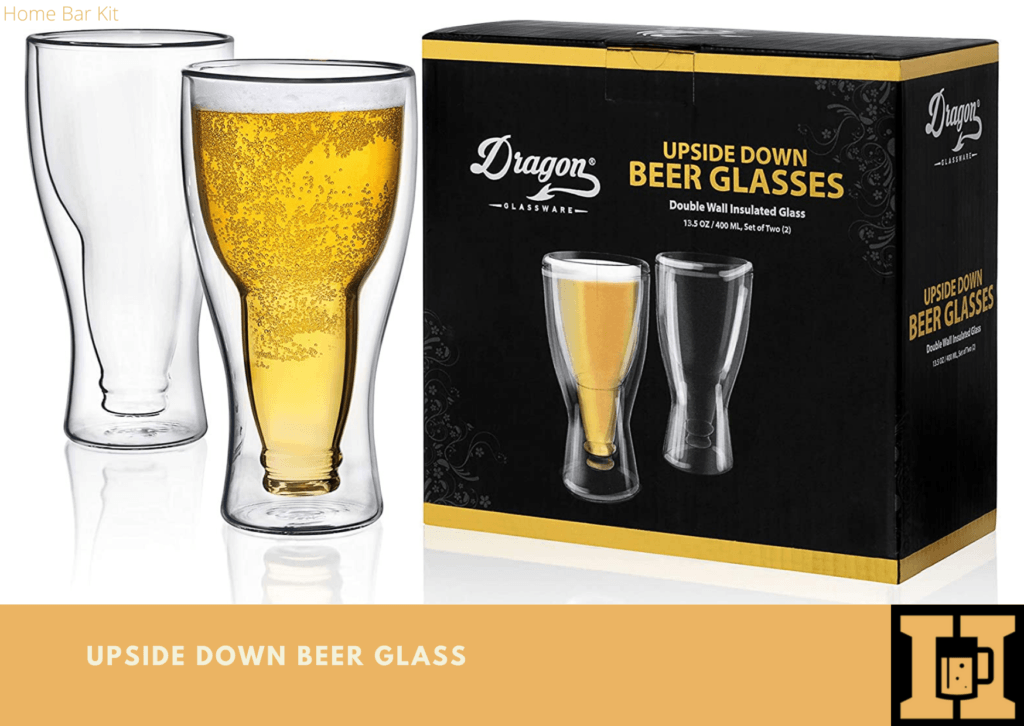 Check Latest Price
This one is a little different to the last, it is not plastic and it has no gel crystal to freeze. Just a clear glass with a double wall insulation. It can still be put in the freezer to get it cold, it then relies on the double wall to keep your drink cold.
Not so suitable for outdoor use for obvious reasons, but perfect for those that must have glass for their drinks. At 13.5oz (400ml) capacity it is a decent size for a bottle of beer. Wondering about the upside down part. The inner glass wall is designed in the shape of a beer bottle, just upside down.
This glass won't keep your beer cold for as long as a gel crystal filled plastic glass. However it does look go and is crystal clear glass for those that can't abide plastic.
Martini Cooling Cup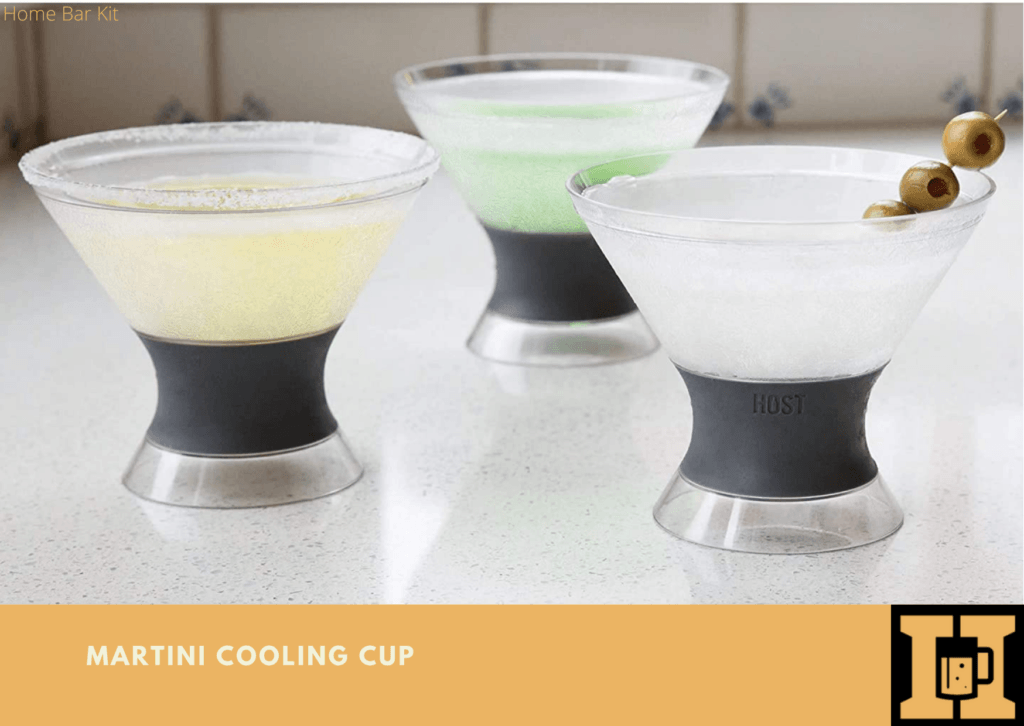 Check Latest Price
Going back to plastic we have a stylish Martini glass to keep shaken but not stirred drink cold for longer. Not just for Martini, these are ideal for any cocktail of even soft drinks. No ice needed to chill your favorite tipple, just the cool looking glass chilled to perfection.
A double wall design with freezing gel between for those ice cold cocktails, or just a chilled Martini. The classic Martini shape without the stem. To add to the aesthetics, but also for practicality, there is a silicone band around the base. This gives it a design edge, plus keeps your hands warmer.
At a 9oz (266ml) capacity it is ideal for a Martini as well as some great cocktails. An elegant looking glass style that has the hidden cooling gel to keep things cold.
Just as the frosted beer mugs, not for freezing longer than 4 hours or below -10°C (14°F). Hand wash only and no hot drinks. That is probably a best practice with these types of drinks vessels.
Stemless Wine Glass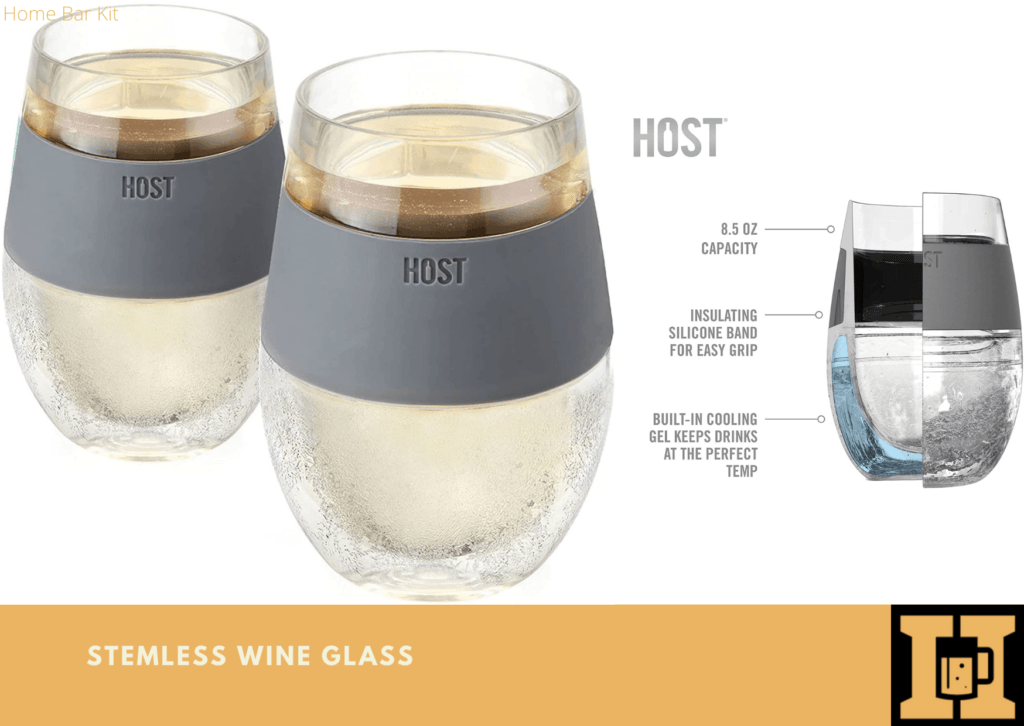 Check Latest Price
We can't forget the wine and whether you drink white, rose or red, these stylish glasses will be ideal for the job. Drinking white or rose, then pop one in the freezer for a beautifully chilled glass of wine. When red is the only option, pop one into the refrigerator to get the perfect temperature.
Again made from BPA free plastic with a double wall and cooling gel. These are perfect for more than just wine, any drink will look good in a stemless wine glass. The top third of the glass has a silicone band like the Martini design for your comfort.
Quite compact at 4.75 inches (12cm) tall with a diameter of 3.5 inches (8.9cm) wide. They will fit easy into a refrigerator or freezer without taking up too much room. The capacity comes in at 8.5oz (251ml), ideal for you favorite wine. Stylish and neat, these are ideal for outdoor gatherings.
Stemless Margarita Glass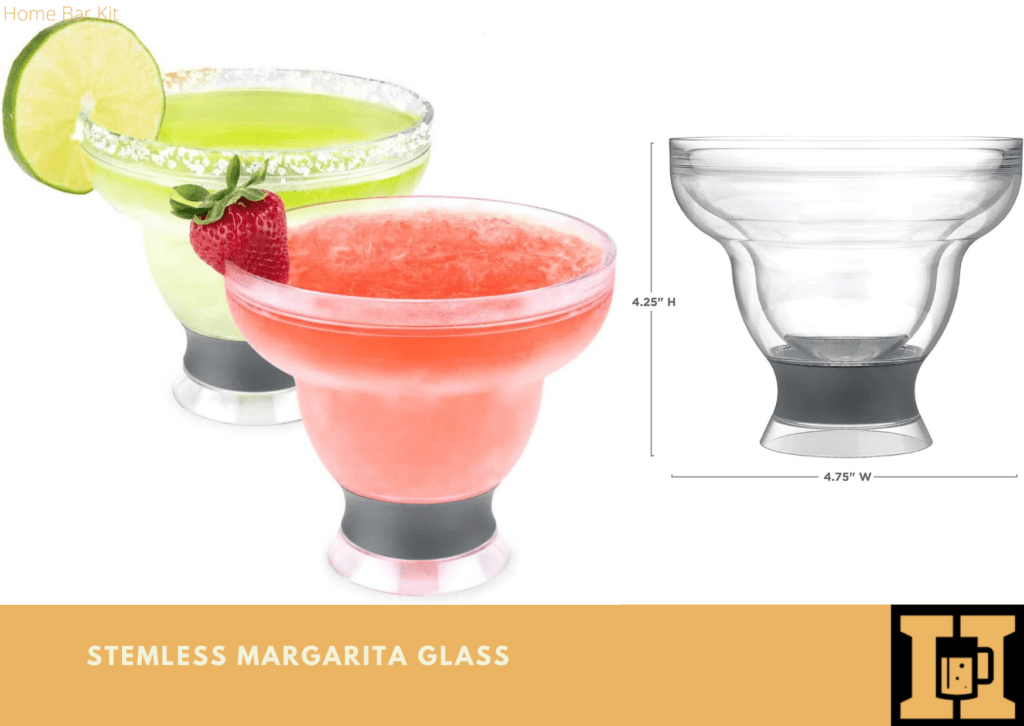 Check Latest Price
How about those Margaritas or other cocktails. If cocktails are your tipple, then these super well designed plastic glasses will be a priority. Double walled and filled with cooling gel, these will keep your cocktails cold. And all without the need for ice that will water down your drink as it melts.
Pop these in the freezer for a couple of hours and they will keep your cocktail at around 4.4°C (40°F) for longer. A refrigerated will keep your drink at around 12°C (52°F) for longer. A frozen cocktail made with crushed ice, and the ice will not melt as quick.
These glasses have a height of 4.25 inches (10.8cm) and a width of 4.75 inches (12cm) at the widest point) A capacity of 12oz (354ml) will see all your favorite cocktails served with flair.
Stylish and neat these cocktail cups have a silicone band around the base to keep you fingers warm and your drink cold. A perfect cocktail glass for barbecues and parties on the decking.
Fun Shot Glasses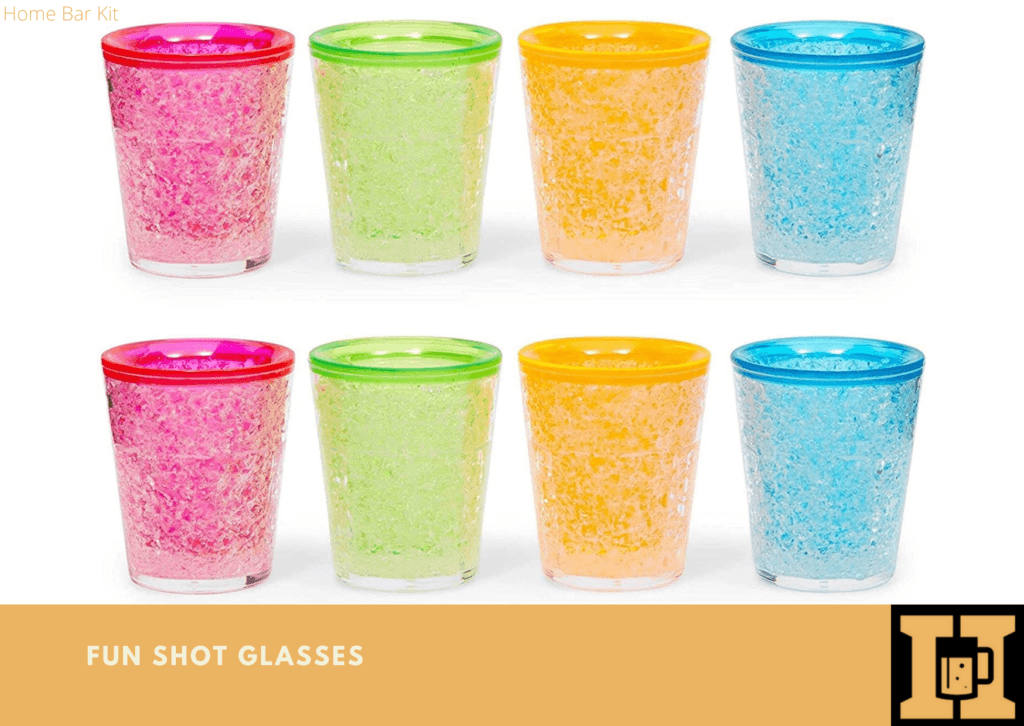 Check Latest Price
When it is time for shots, what better way to enjoy than with these fun colored plastic freezer shot glasses. An 8 pack of 2 blue, 2 red, 2 yellow and 2 green glasses, all with a frosted effect design. Pop in the freezer beforehand and enjoy your favorite shots ice cold.
At just 2.5 inches ( 6.35cm) high and 2 inches (5cm) in diameter, these are small but sturdy. Made from strong shatterproof polystyrene (PS) they will last out any little mishaps. A capacity of 1.3oz (40ml) makes them perfect for sensible measured shots.
Expect a colorful and fun experience with these cute shot glasses ideal for any gathering.
Frosty Ice Mugs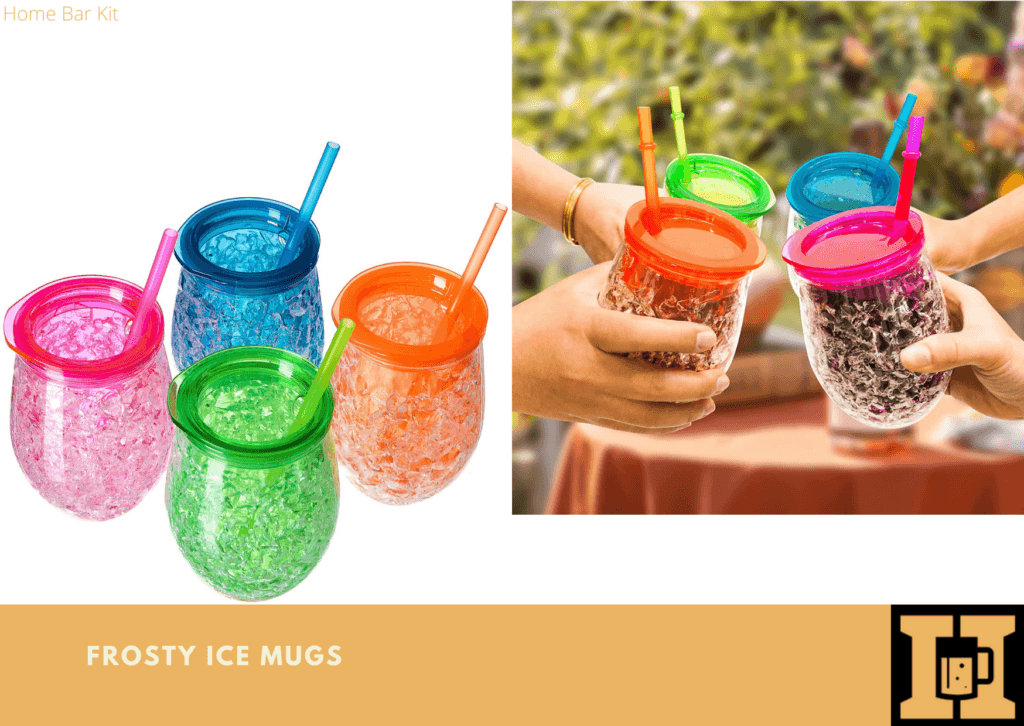 Check Latest Price
Sticking with the fun a colorful theme, how about these frosty ice mugs with lids and straws. With a Tiki style feel they are suitable for all your cocktails. Likewise they would suit kids drinks too with the lids and straws keeping their drinks safe.
A set of 4 sees the colors blue, green, pink and orange, just the thing to jazz up a cocktail. The double wall and cooling gel will keep your drinks cold for longer, Any drink will suit these fun glasses, just pop them in the freezer a few hours before use.
These stand 5.1 inches (13cm) high including the lid (but nit the straw) and 3.5 inches (9cm) at the widest point. A 11.8oz (349ml) capacity makes them a versatile drinks vessel for a variety of gatherings.
Fun and colorful they give out a party vibe, for all your drinks.
Final Freezer Glass Thoughts
There are plenty of designs to choose from when looking at these freezer glass styles. Not everyone likes plastic glasses though, but they do work well at keeping drinks cold for longer. And the added bonus of no melting ice diluting our drinks is is a big tick.
At least those that don't like plastic can get double insulated glasses like the second one I featured. They just don't have the cooling gel between the walls. However they will still keep the drink colder for longer than a standard glass though. Just not as long as the cooling gel glasses.
Things to remember with the plastic freezer glasses is not to over freeze them, a couple of hours is best. Over 4 hours could damage the glasses. Also don't let them go below -10°C (14°F). Only hand wash them, no dishwasher. Follow the manufacturers advice and you have the best chance of them lasting well. If the advice is not followed this could result in a reduced product life.
All in all freezer glasses are a great fun idea, especially for the outdoors. Although they are plastic they do have many advantages. Ideal for an outdoor home bar or Tiki bar.
What are your thoughts on these freezer glasses? Do you dislike plastic glasses? Or do you just love the idea of an ice cold drink without ice? Maybe you have some and would like to share your experience with them. You can answer these question below, share your thoughts about freezer glasses.